Course Code
ocup-2-f100
Duration
21 hours (usually 3 days including breaks)
Requirements
Good knowledge of any object-oriented language or basic UML knowledge is required.
Overview
OCUP2 Content Developer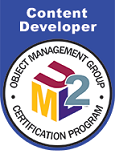 NobleProg has official OMG OCUP 2 Content Developer status, which means that our course outlines and training materials were developed by the same experts who prepared questions for OCUP 2 exams.
Audience
Developers, programmers, business analysts, project managers, software architects, testers, people responsible for documentation or anyone involved in the software development process.
Objectives
Prepares you to work with the most commonly encountered UML elements
Teaches you how to create simple UML models
Prepares you to be a member of a UML Development Team
Certification

"OMG created OCUP to provide a certification, an objective indication, of your knowledge of UML, OMG's Unified Modelling Language.
This will benefit you by giving you an important credential to present to employers and clients. It also benefits companies looking for skilled UML practitioners like you, by giving them a basis for making hiring and promotion decisions."
From: https://www.omg.org/ocup-2/
OCEB Exam Preparation Training, OCEB Sample Questions, OCEB2 Exam Preparation Course, OCEB Certification Training
The Exams and Related Courses
There are three OCUP2 Exams and three courses preparing you to each exam:
Foundation, Intermediate and Advanced.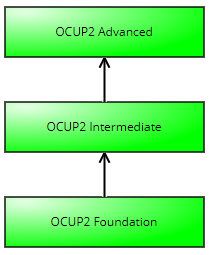 Passing Score on OCUP2 Foundation is a prerequisite to take the Intermediate exam.
Passing Score on OCUP2 Intermediate is a prerequisite to take the Advanced exam.
Fees
The exams fees are NOT included in the course price. Each exam costs $210 (or equivalent in local currency).
OCUP Exam Preparation Training, OCUP Sample Questions, OCUP2 Exam Preparation Course, OCUP Certification Training
Course Outline
Why we model
The Class Diagram
Common Structure
Type
Dependency
Namespace
VisibilityKind (public, private, protected)
MultiplicityElement
Constraint
Comment
Simple Classifiers
PrimitiveType
DataType
Enumeration
EnumerationLiteral
Interface
InterfaceRealization
Signal
Reception
Structured Classifiers
Classification
Generalization
Feature
Structural Feature
Behavioral Feature
Property
Operation
Parameter
AggregationKind (Composition, Aggregation)
Values
LiteralBoolean
LiteralInteger
LiteralReal
LiteralUnlimitedNatural
LiteralNull
LiteralString
Opaque Expression
The Object Diagram
InstanceSpecification
Slot
The Package Diagram
Packages
The Use Case Diagram
Use Cases
The Activity Diagram
Activities
Activity
ActivityFinalNode
ActivityParameterNode
ControlFlow
InitialNode
DecisionNode
FlowFinalNode
ForkNode
JoinNode
MergeNode
ObjectFlow
ObjectNode
Actions
Action
CallBehaviorAction
CallOperationAction,
SendSignalAction
AcceptEventAction
Pin
InputPin, OutputPin
OpaqueAction
The Sequence Diagram
Interactions
Interaction
OccurrenceSpecification
ExecutionSpecification
ExecutionOccurrenceSpecification
DestructionOccurrenceSpecification
Lifeline
Message
MessageOccurrenceSpecification
MessageSort
MessageEnd
Common Behavior
CallEvent
SignalEvent
Trigger
OpaqueBehavior
The State Machine Diagram
State Machines
StateMachine
State
Transition
Pseudostate: choice, junction, initial
FinalState
The experience and knowledge of the trainer - he was able to answer any questions.
Shelley Walker
exercises
Ewa Mierzwińska
Machine Translated
it was OK
Wojciech Mikołajski
Machine Translated
Quizzes summarizing each reworked chapter
Bravura Solutions; Transition Technologies S.A.; ; Asseco Poland S.A.
Machine Translated
practical approach of the lecturer and the ability of comparisons that are easy to remember. In addition, Filip has a lot of slack in himself and it is very relaxing :)
Szymon Placha
Machine Translated
professional knowledge given in an accessible pictorial way
Ewa Pawińska
Machine Translated
atmosphere and many examples
Sylwia Ławniczak
Machine Translated
b. the knowledge of the trainer, giving examples of "life" describing difficult issues
Ania Rusek
Machine Translated
The training was at the highest level, motivated to full attention and concentration, and the knowledge passed met my expectations and I value it the most.
Asseco Data Systems SA
Machine Translated
Response to the needs of this training: ie systematizing knowledge, paying attention to important things in the context of the exam
Gabriela Cieślak
Machine Translated
Despite the high pace, the leader was in touch with listeners all the time
Tomasz Chmielnicki
Machine Translated
well-informed knowledge, well-prepared materials
Anna Natkańska
Machine Translated
Great coaching knowledge and first-hand information from the person directly involved in the subject subject to the training. 2 days of training gave me more than 400 pages of textbook about the same scope
Anna Ciuśniak
Machine Translated
Good pace and the ability to involve the trainer all the time
Comarch SA
Machine Translated
way of conducting, the ability to maintain attention
Comarch SA
Machine Translated
Easy translation of the UML nuances and additional examples and exercises done on a regular basis.
Artur Kapusta - Agencja Restrukturyzacji i Modernizacji Rolnictwa
Machine Translated
The practical information provided that can be used in the daily activities. Information about the certification and steps to certification exam.
DB GLOBAL TECHNOLOGY SRL
The ambience
Mihai Tiberiu Avramescu - DB GLOBAL TECHNOLOGY SRL
The fact that we have been helped for the exam with tips and tricks
DB GLOBAL TECHNOLOGY SRL
The information content was very dense but delivered into a package full of (good) humor. Examples were spot on, enabling the profpund understanding of the theoretical concepts. The learning was on the spot; I am walking away with solid knowledge, structured so well that allows me to easily build on top of it.
DB GLOBAL TECHNOLOGY SRL
The quizzes :)
DB GLOBAL TECHNOLOGY SRL
He explained very well all exercises, subjects, trips and tricks
gabriela oprea - DB GLOBAL TECHNOLOGY SRL
Interaction between trainer and participants, diversity, exercises
DB GLOBAL TECHNOLOGY SRL