NobleProg Reskilling Bootcamps
'Upskill, reskill, adapt and improve'
What is reskilling:
The current pandemic has forced companies both big and small to re-evaluate their workforce, to ensure that they possess the necessary skills to overcome the new business challenges being faced.
More and more companies are facing a decision to either replace sections of their existing workforce or retain the talent they have and give them the opportunity to reskill, with the ambition that these employees can then be redeployed in entirely new roles within the company.
"By 2030, up to 40% of all workers in developed countries worldwide might have to move into new jobs or at least upgrade their skills significantly. McKinsey also estimates that replacing a worker can cost 20-30% of an annual salary on average, while retraining an existing employee costs less than 10% of annual pay."
(McKinsey & Co 08/06/21)
Since the start of the pandemic NobleProg have worked with several large UK companies looking to find new ways to redeploy employees who are at risk or on notice of redundancy. These companies understand the importance of building skills for the future, reducing the number of employee exits, saving severance costs and reducing the need for external recruitment. Companies are understandably very keen to develop scalable reskilling programmes that can be adapted to particular roles and repeated as necessary.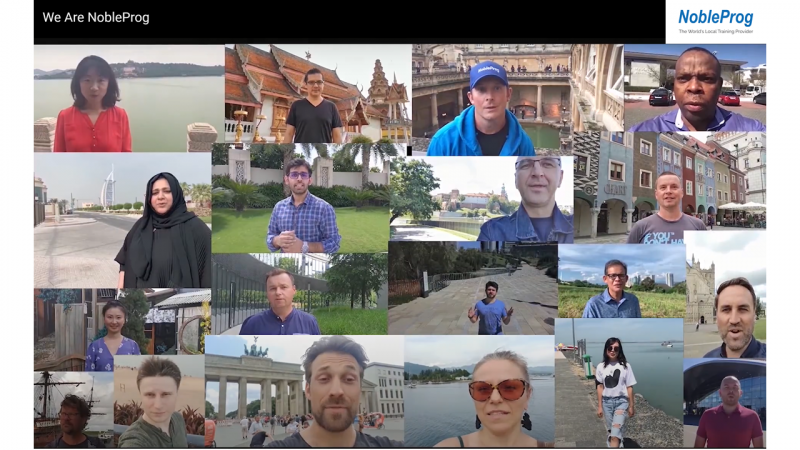 'A company's most valuable asset is its people'
Why reskill:
Earn employee respect, loyalty and increase morale - employees can see that they are not disposable and that they are valued. This can contribute to a positive working culture and employee wellbeing
Retain your talent by supporting their growth in career
Save costs - severance costs and the cost of recruitment
Those who find themselves at risk may hold very valuable knowledge of the way the company operates which would take time to build in new employees. They may retain a high level of motivation and desire to contribute to the company's future success
Build skills for the future internally
How can NobleProg help:
NobleProg UK recently created and delivered a bespoke reskilling pathway for a large international banking group.
The brief was to take a group of current employees from a range of departments with roles including implementation analyst, personal assistant, full stack developer and business analyst and reskill them as Test Engineers.
A 9 week Reskilling Bootcamp was developed with the following key skills included:
Agile
Behaviour Driven Design
JIRA
Automation
JAVA
The 3 Amigo Principle
Cloud Technology

Gherkin
User Stories
DevOps
GitHub
XRAY
Selenium
Having been given notice of potential redundancy, all delegates were moved into new roles as Test Engineers after successfully completing the NobleProg Reskilling Bootcamp.
Feedback from some of the delegates:
Just wanted to say a huge THANK YOU from me.
You've been a great trainer and I have felt like I have learnt so much in such a short space of time. You've covered so many applications/software and even some of the basic steps like downloading and running applications I had no experience of prior to the training. I can imagine it can't have been easy for you but you managed to keep us all on the same page for the duration of the 9 weeks.
Great job all the best.
Our Approach:
We work closely with companies to determine their exact requirements based on the profiles of the staff involved and the challenges and plans for the business.
We create bespoke learning pathways and can include not only the technical elements but more general skills such as Agile or the development of soft skills.
We use a blended approach to learning, our programmes are primarily live instructor led sessions, with elements of peer to peer working, self-study and 1-1 support. We can also utilise e-learning.
We place a great emphasis on working collaboratively with the business throughout every stage of a reskilling project – from conception to delivery to the eventual deployment of the cohort into their new roles. This ensures that course materials and practical activities are reflective of the practices undertaken within the business, ensuring that the skills and knowledge gained are relevant and immediately transferable for application within the delegates' new roles.
We can devise programmes to include slots for internal guest speakers. This can provide valuable information to the delegates and also demonstrate the executive support for the delegates' learning and development, contributing to the embedding of a foundation of learning culture.
We have the expertise to create learning pathways for the most in demand technological roles in the UK at the moment:
IoT solutions architect

Data management
Java, Python, or CSS
Embedded systems
Network topologies

Cloud computing
Stream processing
Analytics
Application development

Big Data Engineer

Machine Learning
Database skills and tools
Hadoop
Java

Cloud computing
Python
Apache Kafka
Scala

Cloud Architect

Data storage fundamentals
Java, Python, or C#
Networking
Security foundations

AWS service selection
Cloud-specific patterns and technologies

AI engineer

Programming Skills
Linear Algebra
Probability and Statistics

Spark and Big Data Technologies
Algorithms and Frameworks Analytics

Software developer

Data Scientist

Analytics and Modelling
Machine Learning

Programming
Data Visualization

Information security analyst

DevOps engineer

DevOps Tools
Software Security Skills
Automation

Coding and Scripting Skills
Cloud Skills
Testing Skills
NobleProg (UK) Ltd have over 11 years of experience working with partner organisations to deliver training in a wide variety of sectors, from private companies with 1 employee up to large global organisations, both in the private and public sector. We have a dedicated team of administrators who work closely with the organisation to ensure that the journey from planning to delivery and follow up of training is seamlessly coordinated. Our trainers are experts in their field and are selected not only for their subject expertise, but their ability to work alongside clients to provide the highest standard of training and communication.
If you would like a consultation to explore opportunities for upskilling your staff, please get in touch!
email: training@nobleprog.co.uk
Or give us a call: +44(0)208 089 0990